Mystic Bodyworks Website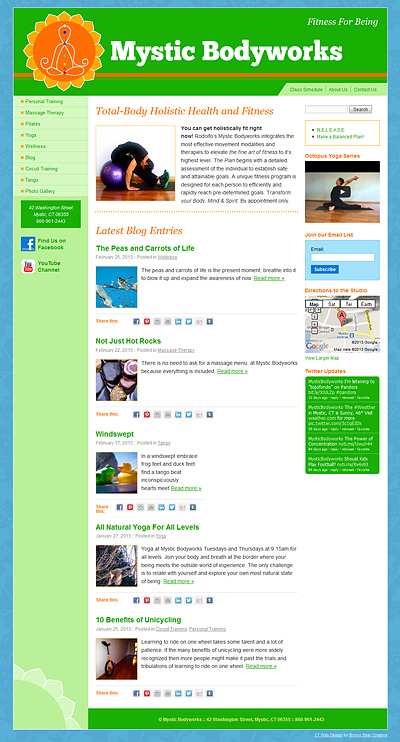 Role: Web Designer / Web Developer
Mystic Bodyworks, a fitness studio in Mystic, CT, needed to overhaul its branding and web presence. Brown Bear Creative provided a fresh take on the studio's logo and designed/developed a new WordPress-powered website.
For the logo graphic, Brown Bear changed the colors of the existing meditation man image and added petals around the circle.  This new shape alludes to a chakra, which is a wheel-like vortex commonly associated with yogic tradition.  For the logo lettering, Brown Bear used a bold typeface that provides a strong counterpart to the  bright color palette of the overall design.
The website's vivid color scheme reflects vitality and exuberance. This falls in line with Mari's goal to help clients become as holistically fit as possible. Color-coded icons in the subpage titles symbolize qualities like strength, flow, and balance, which relate to the different areas of fitness and nutrition.
The site is powered by WordPress, which means an administrator can update all the content in the site using an intuitive, browser-based admin panel.