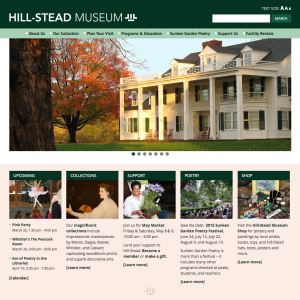 Brown Bear Creative designs and develops professional websites for towns, schools, libraries, non-profit organizations, and small businesses. Our sites have been recognized by the American Library Association, the Connecticut Library Association, and the Connecticut Art Directors Club.
Mobile-Friendly / Responsive Websites
These days, it's important for websites to be readable and accessible across a range of devices, from desktops to tablets to smartphones. Brown Bear Creative can develop your website so that the layout adapts to various screen sizes. This is called Responsive Web Design. No need to zoom in on sections of the page or side scroll on smaller devices!
WordPress Websites
Brown Bear Creative can design your site however you like and then develop a custom WordPress theme (or template). A WordPress site allows people to update their website themselves using a browser-based interface. Adding or editing pages, writing blog posts, and uploading images and other media is easy with WordPress!
Web Design Portfolio
Recent Work
Past Work